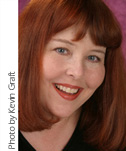 Charr Crail is a professional photographer and artist who has been at her craft for over 23 years.
As a photographer, she is a California-based photojournalist, specializing in editorial, portraiture, digital illustration and commercial/corporate work. She is equally comfortable in the studio or on location. Her work has been published worldwide and she has had dozens of gallery presentations of her fine art photography.
The art side of her creative expression is most often presented in the form of hand-painted silk scarves that are both wearable and frameable. The scarves display her whimsical viewpoint in the form of figurative work, stylized faces, nature and detailed, wildly drawn patterns all presented in rich vibrant color.